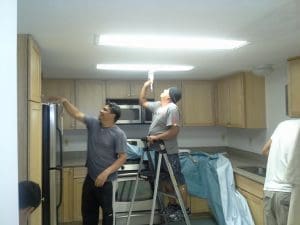 As Kids Club came to a close, the Kids Club Parent Committee President approached Julio and said, "We need to host a painting and cleaning time with the parents. We must return the church like new." What started off as a comment in passing became reality.
At the end of June, several Kids Club fathers and three middle school students came to paint and repair the church. It was amazing to see fathers from different professions come together using their skills to bless our host church. Kids Club has forty kids who move through the white hallways with pencils, grubby hands and dirt filled shoes. After a year of Kids Club wear and tear, the hallway was dingy and dirty. The fathers came ready to work.
One father came to the U.S. at 15 years of age and has worked as a painter for the past 15 years. He knew his trade and like a general provided quick lessons, empowering those present with the confidence to paint. One young boy waited patiently taking on menial tasks until he earned the privilege of joining the rest of the men in the more skilled task of painting. After earning his stripes, all the men gathered around him and expressed their pride in his perseverance. By the end of the night, the men were shooting the breeze as if they were old friends. The group patched up the kitchen ceiling and  painted the main corridor, kitchen and bathroom. On Friday, the mothers and other fathers joined in deep cleaning of the church building dusting, scrubbing, sweeping and mopping the well used space. Many of the mothers, who work in housekeeping, brought their equipment, expertise and strong work ethic.
These nights of cleaning and painting were a taste of the body of Christ working together in unity as they offered up their gifts, talents and abilities.The parents were giving of themselves, doing their part to bless the church by making the building new again. In the process of renewal, they built community. This is a vision of what is to come. This is a vision of hope. Please join us in prayer for a communal heartbeat of renewal in all we do.