On November 11 one college student, five fifth graders and an adult leader took a trip to a ropes course at Camp Bennett in Maryland. For our LIT students, those who display leadership potential, this was an opportunity to practice problem solving and team building skills in a unique setting. From the beginning, things were going in a great direction because everyone showed up on time or ahead of schedule (good basic skills that are being encouraged).
At the course in Maryland, the students went through the rigors of 3 different challenges. The giant seesaw was a task that required the students to communicate and be patient with each other as they attempted to step onto a large platform while keeping it balanced on its fulcrum. The students soon realized that they needed to listen to each other and move slowly to accomplish the task. Eventually, they were not allowed to speak, yet they still had to communicate with each other to accomplish the goal of walking  between opposite ends while keeping the platform balanced.

The rope swing challenge had a twenty-foot gap on the ground, which the students could not touch. They had to reach a rope hanging in the middle of this gap, pull it to themselves and swing across to a 3 foot by 3 foot platform until everyone in the group made it across. If any part of anyone's body hit the gap, the whole team had to start over.  From this activity, students realized and became aware of their own and each other's abilities and then created a strategy that would allow everyone to successfully cross. They effectively worked through their strengths and weaknesses (physical and emotional) to achieve success!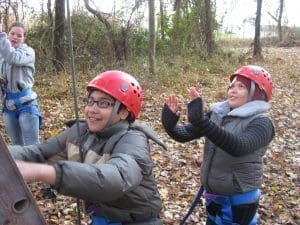 For the final challenge, the students went down the zip line. They had to encourage one another, overcome personal fear and exhibit physical strength. They put the things they had learned into practice by climbing a very tall telephone pole (with the spotting and encouragement from their team) and taking the leap of faith down the zip line.  I was very impressed with their determination and encouragement.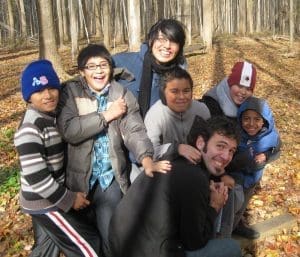 One of the powerful, unexpected evidences that showed how much unity had been created occurred on the trip back. Without any prompting they began singing songs. They weren't singing pop songs but camp songs. They were songs that passed from one student to the next. They graciously taught them to the others who did not know them, and not once did they cut someone else down from messing up or not sounding cool. This is abnormal fifth grade behavior for kids in our neighborhood. Seeing the communication and encouragement from the ropes course trickle into the ride home without any prompting was powerful evidence for the positive experience of this trip. This is definitely an opportunity that Casa Chirilagua hopes students in our neighborhood are afforded again.