We were very sad to see Kevin Sparks move away from the neighborhood in September of last year. We miss him dearly and the rhythm of life still seems a bit strange without him.  After living in the neighborhood for 2 years and serving in whatever capacity possible (mostly Kids Club volunteer and finance), Kevin received a call to return to New York City to a job with a bank in Rockefeller Center.  Though Kevin has moved away, he continues to invest in Casa Chirilagua in very big ways providing financial accountability through the gift of time and talent.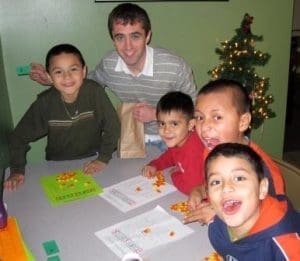 In January of 2011 just as Casa Chirilagua was launching as an organization, Kevin locked himself away in his room for what seemed to be 48 hours straight and emerged with a 42 page Casa Chirilagua Financial Policies and Procedures manual accompanied by all the appropriate documentation forms. That manual has been reviewed and approved by staff and board members creating a wonderful infrastructure for financial stewardship, management, transparency and accountability. In addition to this, Kevin processes our monthly accounting entries in Quickbooks, monitors financial paperwork, produces monthly financial statements and researches all of our accounting questions and concerns.  In addition to all of this, he gave up his entire MLK Jr. weekend to close out the 2011 books for our first year of operations, produce the 2011 financial statements and issue year end giving statements for all of our donors. He is also working on the preparation of our annual report to the IRS, known as the 990.
We don't really know how God would have provided if Kevin hadn't stepped up to the plate and said, "Yes, these are the gifts I have, this is what I am passionate about, and this is how I would like to use my gifts to contribute." Kevin's investment has helped bring much credibility to the organization early in its inception and has helped the ministry live out its value of stewarding resources well.