Dear Casa Chiri Family,
Wednesday, May 2nd 2012 was an historic day for Casa Chirilagua. The staff are still pinching themselves to ensure that it was reality. Casa Chirilagua participated in a 
Razoo
/
ACT for Alexandria
hosted one day online fundraising event called Spring2Action. The financial goal for the day was to raise a portion ($15,000) of the 2012 Middle School budget to start a Middle School program this fall. Instead, we were blown away by over $40,000 in generosity!
I started the day by finding a letter and an envelope on my fridge. It was from the Middle School girls who had gone out the previous evening and collected $53 to contribute to the fundraising effort. The note was a letter of gratitude and appreciation.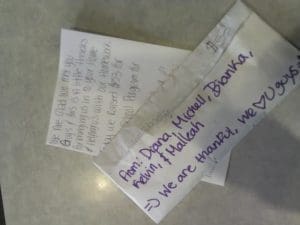 From there, the day only got better. All throughout the day, I received notifications in my inbox of differing quantities of money being donated for the Middle School program.  $12, $20, $50, $250, $2,000.  The generosity kept rolling in and prayers of thanksgiving lifted from my lips. We hit the $15,000 goal around 4:00 PM but things didn't slow down. The manna from heaven kept flowing. At 5:30 PM, the close of Kids Club, we had a community fundraiser celebration. All of the Kids Club kids came forward with their little decorated envelopes to give their contribution for the Middle School program. At least two Kids Club students we know of donated their Springbreak project prize money for the Middle School cause. We witnessed one young man who upon receiving his prize money envelope, opened it, took out his $5 and transferred it directly into his Middle School donation envelope. What a generous little heart! All together, the Kids Club families raised $307.15.
After the celebration, I was off to the YP4CC Happy Hour, hosted by volunteers Fredy Hernandez and Melisa Chavez. I couldn't wait to check the leader board. Giving was still going strong. However, beyond the giving, we were blessed by something else.  Over 50 people showed up for the happy hour, many of whom were new faces and several were genuinely interested in hearing more about Casa and volunteering. I kept thinking, this day just can't get any better. As we closed things up and the clock was nearing midnight, a last generous donation came out of the blue which put Casa Chirilagua at the top of the leader board for giving for the day, helping us secure a $5,000 prize money grant.  We were awestruck.
You can imagine our excitement the next day as we told our Middle School students the outcome of the previous day's events. When it comes to money, large dollar amounts are difficult for students to comprehend. They seem just as impressed with $10,000 as they are with $40,000. However, what really struck our students was the fact that over 180 people gave. "That many people care about us?" "That many people gave money for our Middle School program?" they inquired. We were able to answer back with an emphatic, "Yes." The way these people care about you and God's love for you is extravagant. It's bigger than what you can imagine.  Over 180 people think your Middle School program is important and yes, God loves you that much to provide the funds.
Our only conclusion from this marvelous day of generosity is that God's love and provision for all of us and for these students is Extravagant and this week was just a glimmer of that blessing.  James 1:17 states, "Every good and perfect gift is from above, coming down from the Father of the heavenly lights, who does not change like shifting shadows." We give thanks to God for these funds and
we thank all of our generous donors who contributed in this event
. It is our prayer that we will be steward these resources with wisdom and diligence.
It really doesn't make sense…$40,000 in one day for this new start-up ministry. This day reminds me of a passage from Ephesians which Emily and I would cling to in our first months living in Chirilagua. I believe a benediction in is order. Now to him who is able to do far more abundantly than all that we ask or think,according to the power at work within us, to him be glory in the church and in Christ Jesus throughout all generations, forever and ever. Amen.
Many Blessings,
Dawnielle,